Angele Dubos, France
"Paris is Babylon, the city of all temptations" Christine Angot
Fabulous heritage, outlets and luxury shops, shows and concerts, sports and games, palaces and youth hostels, cafes, bars, pubs and gastronomic restaurants, monuments and musems free on holidays… I'll have to stop here because it'll be an exhausting list and a novel as well. Since October 2017, Paris has become, again, the first world city tourist destination. Added to that, France is the first world destination too. But why does such a renown city and have this amazing rank?
First of all, Hausmann architecture found his place in people's interests. Those astonishing buildings, have been designed with very fastidious details since the 1870s. Grey rooftops are well-known as well to young Parisian people, they can climb or go out on them by their attic windows. Every Parisian has done it at least once.
Moreover, France is the European crossroad due to its borders with Italy, Spain, Switzerland, Germany, Luxembourg, Belgium…
That's why, from a statistical point, for their holiday some people transit through France which supports its No 1 rank. On the culture side, Paris shares with Rome, the most fabulous heritage. Our museum and monuments are free during French holidays. Don't plan to spend holidays in Paris for only 1 or 2 days, you need so much more! Garnier Opera, the Louvre Museum, Palace of Versailles, Montmartre, the Museum of Yves Saint Laurent, Studio Harcourt for photography's fans, Notre-Dame… And obviously our outstanding Eiffel Tower where you can eat on the 2nd floor. It truly is a stereotype of French people drinking red wine, eating cheese and bread on the grass (Champ de Mars) in front of the Eiffel Tower while the sun sets.
Dinner cruises, party cruises, 1 hour-boat rides, are available for sailing on  and visiting at the same time, our breathtaking capital. You will discover the timeless majesty of Paris and be on a journey out of time. Bear in mind that we're part of the few countries which you can name their cuisine of gastronomic. Enjoy every meal, every taste, every drink because Parisians pay attention to details. That's why everyone is spellbound (in order to give a great rank to Paris). Gourmet City tours are the most fulfilling experiences in a short time of your stay in this city.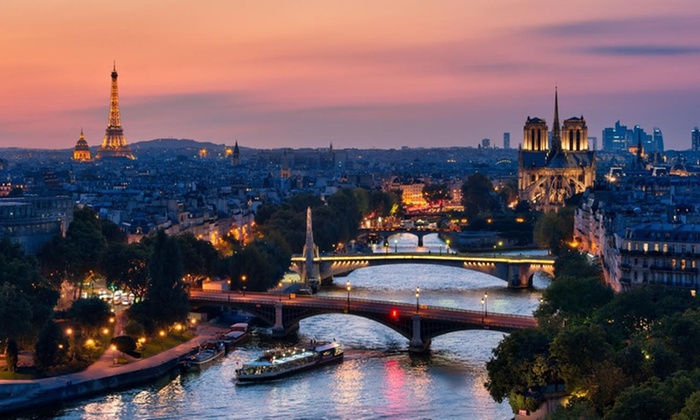 With your friends, you can hang out in the Paris nightlife until 9am, chilling in its awesome and lit streets. At Arc of Triumph, the most unexpected nightclubs show themselves but don't get used to it because when you taste the flavors and Paris' life, you can be easily and quickly addicted.
Some events follow Paris' daily life as the well known Fashion Week. Everyone gets crazy and outrageous. However, anytime you go in Paris, you can find out events to make all of your dreams come true.
Here is a little presentation about an comedian Parisian girl for her next show. Let's find it interesting because it well depicts the Paris lifestyle.
"Because Julie has lived in London, Chicago and New York, but she has always remained a true Parisian … She decided to leave the Legal Department of a large company to play in the first one woman show about a 100% Parisian women in English.
You'll be won over by her: getting up late, struggling through the crowds in the metro at rush hour, juggling a career and family life, having a quick drink and doing some shopping, preparing a meal with friends, going out clubbing … Come and experience a hectic day in Paris with Julie! Encountering the various characters played by Julie Collas is a hilarious experience: the audience laughs at the foibles of Parisians and revel in Julie's delightful French accent … A show for everyone.
A joyful show not to be missed!"