Raphaela Vogel, Switzerland
Appenzell is a region in the northeast of Switzerland. I will show you some of the places you have to see:
Mountains: Alpstein
In Appenzell, there are a lot of mountains. Altogether they are called Alpstein. The biggest mountain in Alpstein is called Saentis, which is 8,216 feet (2,504 m).  In the summer, there are a lot of hiking trails. In the winter you can go skiing and go for a winter walk in the snow.
One of the most popular mountains in Appenzell is called Ebenalp. It became very popular because of a restaurant on the way up. The restaurant is called Aescher and it was built precariously into the face of the rock.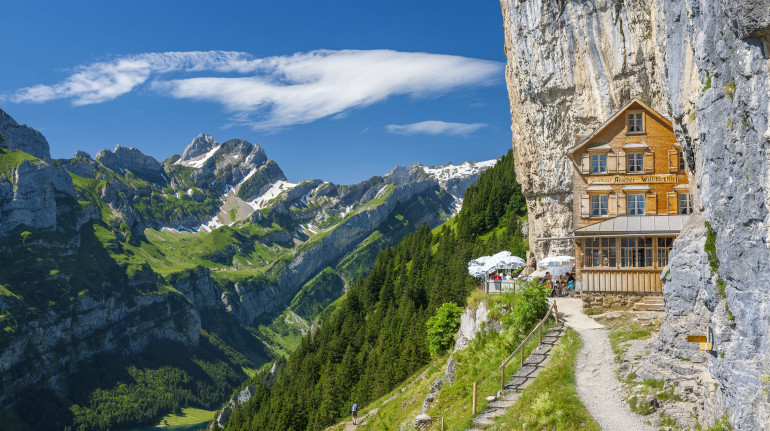 Cheese factory
Another typical thing for Appenzell is the cheese. We have our own cheese called "Appenzeller cheese". In a little village called Stein, we have our cheese factory. Overthere you can look over the shoulders of the cheesemaker and you will see how they produce their cheese. And if you like, you have the possibility to make your own cheese. Of course, there is also a restaurant and a shop where you can eat something or buy some cheese or a souvenir.
Appenzell (City)
The capital of Appenzell has the same name as the region. In this city, you can see some typical houses for this area. And, of course, you can spend some time in this cute city. If you would like to learn something about the culture of this region you can go to the museum. There they will show you all about their lifestyle and their culture.
Silversterchlausen
There is something that only exists in Appenzell. It is called Silversterchlausen. Each year at New Year's Eve, some groups of six men (Silversterchlauese) go from house to house. First, they will sing together. After that, they will wish you a lucky New Year!
There are two different kinds of Silversterchlaeuse. We called them "The Beautiful Ones" (picture on the left) and "The Ugly Ones" (picture on the right).