By Jasper van Heest and Linda Sandberg, The Netherlands & Sweden
Los Angeles, the City of Angels.  In Los Angeles, you will find a lot of restaurants, from cheap ones to really expensive and luxurious ones. It depends on what you want to eat, but you can find everything you wish for.
In this article, we will discuss our favorite restaurants from affordable ones to some more expensive ones.
Catch LA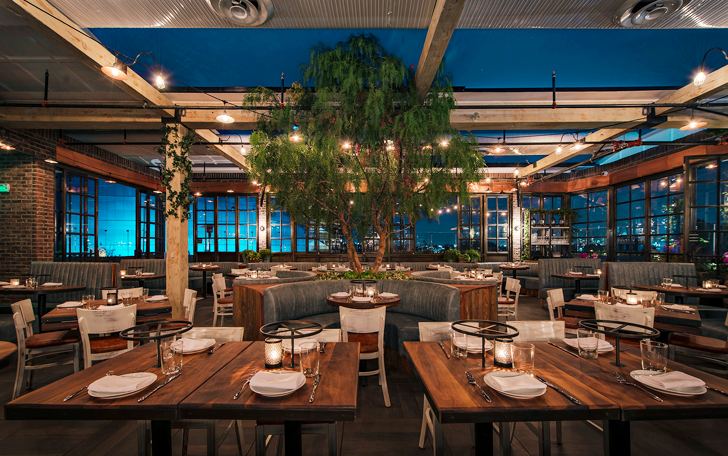 $$$$$ – Catch LA is a really expensive, exclusive and luxurious restaurant located in West Hollywood,  8715 Melrose Avenue. They mostly serve seafood. A lot of celebrities visit this restaurant. If you would like to have dinner here, you need to make a reservation in advance. The vibe here is really chill and luxurious at the same time. We recommend the mushroom pasta and the truffle fries.
In our opinion, this restaurant deserves 5 stars because of the mix between good food, drinks and a nice atmosphere.
Tao LA
$$$$- Tao LA is located at Selma Avenue in Hollywood. It is a really nice and exclusive Asian restaurant with a lot of different kinds of food and cocktails. This restaurant is pretty expensive. You should make a reservation in advance. This restaurant has a relaxed and lush vibe as well. It feels like you have a lot of privacy here because it is really dark inside of the restaurant and it has a mysterious atmosphere .
We really like this restaurant even though it is expensive. We think that the place deserves 5 stars and we can highly recommend that everyone should try the tuna and also the Moscow Mule, if you are over 21 of course.
Cecconi's Los Angeles
$$$ – Cecconi's Los  Angeles is located at 8764 Melrose Avenue, West Hollywood. This is a really pleasant and laid-back restaurant. You can find different kinds of Italian food like pizza and pasta, and they also have a really nice bar that you can enjoy. The people who work here are very friendly and help you with everything you need. This is also a location where many celebrities go for dinner so, if you are lucky, you can spot one.
We recommend the pizza here, and we gladly give the restaurant 4 stars, because its a really good restaurant with good service and food, but it has nothing unique and, compared to the restaurants above, it is not 5 star quality food.
Beauty & Essex Los Angeles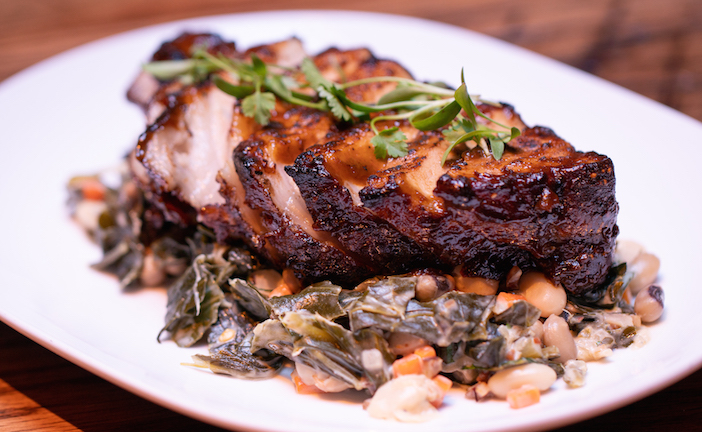 $$$ – Beauty and Essex  is located at 1615 Cahuenga Blvd, Los Angeles, CA 90028. This restaurant is one of our favorites in Los Angeles. They have a lot of different types of food, from Asian to traditional American. Something we really like about this restuarant is that you enter into a small jewelry shop and go through a secret door where you can find the restaurant.  This place has two floors. On the first floor, you will find the restaurant shown in the third picture above, and on the second floor, it's more of a loungeplace where they have a DJ who plays music. It has a really cozy vibe and the food is really good. They also change their menu on holidays, for example on Thanksgiving they have a special Thanksgiving menu.
In our opinion, this restaurant deserves 5 stars because of the mix between good food, drinks and a nice atmosphere.
The Butcher The Baker and The Cappuccino Maker
$$ – The Butcher The Baker and The Cappuccino Maker is located on 8653 Sunset Boulevard, West Hollywood, CA 90069. This is a very popular brunch/lunchspot in Los Angeles, but you can also eat dinner here. We recomend everyone to go here at least once, and especially for brunch when the sun is out. The food and the service is really professional so everyone will feel welcome here. Because it is such a populare place, you might have to wait for a table if you do not make a reservation before. This is definitely our favorite place to have lunch, so we give this place 5 stars. A little tip from us is that you should order the "artlatte" because it is very instagramfriendly.
Urth Caffe
$$ – Urth Caffe Melrose is located at 8565 Melrose Avenue, West Hollywood, CA 90069, but they also have a place in downtown LA. This is a popular lunchplace for people who like to eat healthy food. They have many different salads, sandwiches and juices and almost everything is vegetarian/vegan. From the outside, it looks pretty, but in our opinion, the inside does not look that attractive. It is very basic and they should make it more modern. The food here is okay but nothing special according to us, therefore, we cannot give this place more than 3 stars, but it is still a delightful place to go to if you want to have a quick, healthy lunch.
We hope that our little guide can help you to find the perfect place for your different foodmoods around Los Angeles.