Luna, Belgium
Thanksgiving is a public holiday celebrated on the fourth Thursday of November in the United States. It has been celebrated as a federal holiday every year since 1863, when, during the American Civil War, President Abraham Lincoln proclaimed a national day of "Thanksgiving and Praise to our beneficent Father who dwelleth in the Heavens," to be celebrated on the last Thursday in November. Together with Christmas and the New Year, Thanksgiving is a part of the broader fall/winter holiday season in the U.S. This year I'm going to celebrate Thanksgiving in San Francisco, so let's see what activities I could do during this little trip!
WEDNESDAY 11/21/2018
Arriving on Wednesday evening, the best thing to do first is to check into the Airbnb : cheaper option than a hotel. A nice and free evening activity  in San Francisco is walking to the Golden Gate Bridge and see it completely lit up with a beautiful sunset. Enjoy the breathtaking view with a nice hot chocolate or coffee to take away from Philz Coffee!
THURSDAY 11/22/2018
Thanksgiving is already here! To make the most out of this celebration you need to make sure to wake up a little early. This way you can enjoy the city when it's calm and empty. In the morning you can visit the Japanese Tea Garden which is a really peaceful environment. For lunch, enjoy a nice picnic in the park in front of the Painted Ladies. In the afternoon a nice and not too pricey activity is the cinema ! This year, Disney made a movie based on the Nutcracker story and this certainly is a must see during the wintertime. If you're not into musicals you can always go see another movie in the winter sphere. Ice skating is also something on your To Do list especially in front of the Macy's Christmas tree, it's a magical sphere.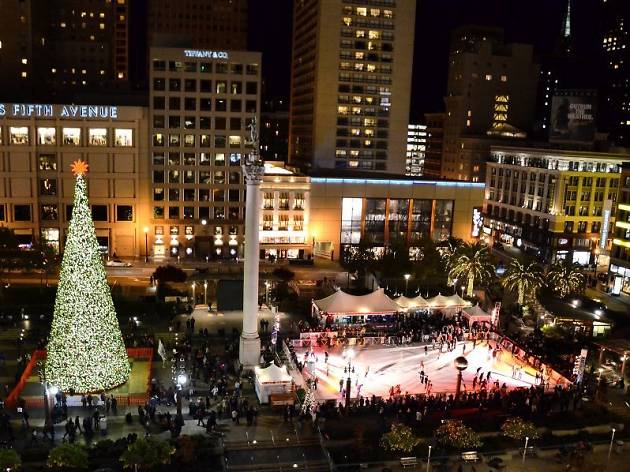 FRIDAY 11/23/2018
BLACK FRIDAY! This is a day you want to wake up super early to be in front of the stores cause this happens only once a year. Black Friday is an informal name for the day following Thanks Giving in the unites states, which has been regarded as the beginning of the country's Christmas shopping season since 1952. Essentially, it's a huge event where all the stores open early, close really late and  have a lot of sales and deals. If you don't feel like being in a really crowded mall they also have plenty of deals and sales on their websites. There have been some scary stories in the past from people fighting about products and especially electronics but I still think it's something you need to experience when you're in the USA.
In San Francisco the best places to go shopping are:
Union Square
Union Street
Market Street
Stonestown Galleria
Pier 39
Embarcadero Center
Ghirardelli Square
SATURDAY 11/24/2018
Take a day off! Try to make this day as chill and cozy as possible. Wayfare Tavern is one of the cutest restaurants that is really going to put you in the winter sphere. It has a beautiful fireplace and delicious winter food. You can also just enjoy the city and visit the most popular places like the Alcatraz prison, the Coit Tower, Fisherman's Wharf and travel around the city with the cable cars.
https://sf.eater.com/maps/san-francisco-restaurants-with-fireplaces
SUNDAY 11/25/2018
Every Sunday morning at 10am, you can catch the two-hour Champagne and Mimosa cruise around the SF Bay. This relaxing ride offers amazing views of the SF Bay including the Golden Gate Bridge, Alcatraz Island and Sausalito. You will also ride past the Palace of Fine Arts, Angel Island and Fort Point National Historic Site.
Farmer's Markets are an important start to Sunday in San Francisco. Each week, you will find several throughout the city. Here are the details on the largest and most popular (all are year around unless noted):
Heart of the City in the UN Plaza in Civic Center: 7 am to 5 pm
Divisadero's Farmer's Market on Grove at Divisadero: 10 am to 2 pm
Fort Mason Center Farmer's Market: 9:30 am to 1:30 pm
Inner Sunset Farmer's Market in the parking lot between 8th and 9th Avenue south of Irving Street: 9 am to 1 pm
Glen Park in the parking lot of the Glen Park BART Station: 10 am to 2 pm; Late March though late November
If you love live music, then you are in luck! Every Sunday night, you will find at least four of five live shows in San Francisco. Larger shows are at venues such as The Warfield, The Fillmore and The Bill Graham Civic Auditorium. However, you will also find smaller shows at The Independent, Slim's and The Great American Music Hall.
If you are planning on living this experience, which I highly recommend, enjoy it as much as you can whit your love ones. And be thankful !