by Lea Barras, France.
I have to admit, sometimes I lose confidence in myself when I spend too much time on social media sites. But, even if most of people don't admit it, I think that nowadays it is common for everyone, especially for teenagers and young adults. Indeed, nowadays, social medias are everywhere and everyone has an Instagram, Twitter or Facebook account. Event though these sites are really useful and have a lot of positive aspects, sometimes they can also have a lot of negative impacts, especially when it comes to self confidence and loving ourselves.
For example, when we are scrolling our Instagram page, we're always seeing perfect girls with perfect bodies in perfect places. Also, with the famous hashtag #goals, we always see pictures of #couplegoal, #lifegoal, #friendshipgoal etc. In fact, these kinds of posts can have a really negative impact on our way of loving ourselves. Indeed, we start to compare and to wonder why we do not have that kind of body or why we don't travel as much, why we are still single, why we do not have that much money etc. Then, we start to post pictures or posts just for people to like them because we always want to be the one with the most of likes etc. But when we don't, we become sad or question ourselves, thinking it's our fault or  that we are not enough.
We are used to see celebrities, such as Selena Gomez (in the picture below), who have the most liked pictures on instagram (she has sometimes more than 8 million likes) or influencers who always seem to have the perfect lives. In the end, it has been proven that these habits damage a lot our self confidence.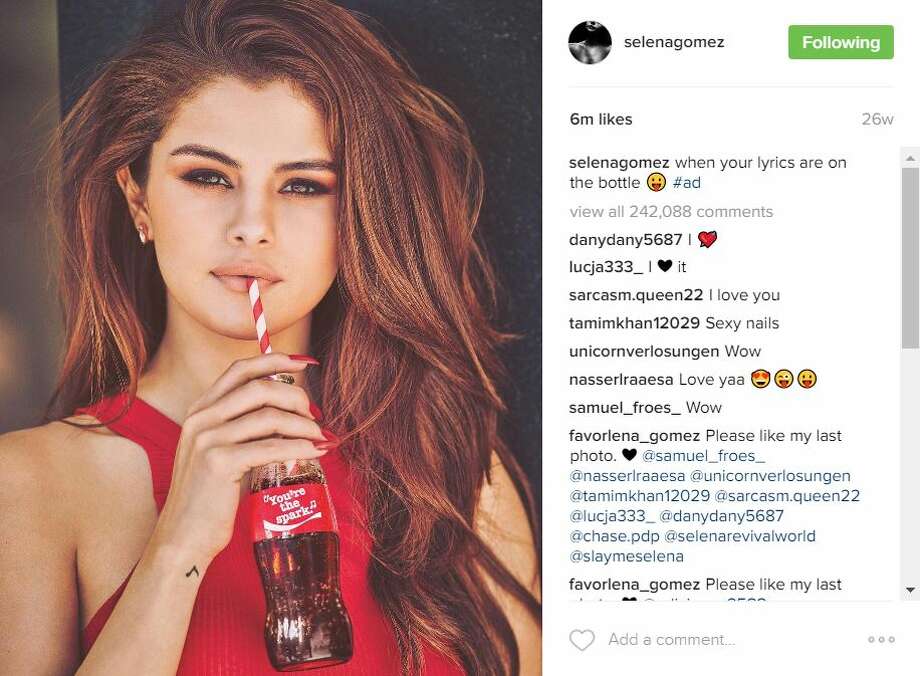 Indeed, for 60% of people, social medias have impacted their self-esteem on a negative way. Let's see the 3 main reasons why loving ourselves has become so hard because of social medias and the 3 main attitudes we can use to resolve this problem.
3 mains reasons why loving ourselves has become so hard because of social medias : 
Most of the photos we can see on social medias are retouched. 
Indeed, often when we see a picture on internet, it's not real. The photo has certainly been retouched to fit the beauty standards that society has imposed on us today. Nowadays, women should all have perfect bodies, which means thin legs but with curves, tanned and clear skin, long beautiful hair, but this is not reality. We can't be that "perfect" and this makes "normal" people,and especially teenagers, feel bad about themselves and having complexes about their physical appearances.
Famous people on the internet always show the best sides of their lives. 
People rarely talk or post about what's going wrong in their lives or about their insecurities and fears. They only show the best that's happening in their lives. That gives us the feeling that they have perfect lives with no bad days or struggles, whereas in fact it's not true. Everyone has bad days or struggles with something. So we have to remember that people on social medias only show us what they want to and that we don't know what happens in their lives behind the camera.
The constant run for Likes. 
Nowadays, Likes are more important than everything else. Everyone wants to be the one with the most Likes on his pictures. This leads to people being ready to do anything to achieve it. Indeed, sometimes we post things more for others (because we know it's the kind of poses or pictures they like) than for ourselves. In the end, we don't even like the things we post, but we post it because it's the "trend".
3 main solutions for being able to still love ourselves while being active on social medias :
"Personality begins where comparison leaves off. Be unique. Be memorable. Be confident. Be proud." is a quote by Shannon L. Alder that we should all keep in mind when we're using social medias and start comparing ourselves to these perfect girls in photos. Indeed, the only person we should compare ourselves to is ourselves because that's what matters the most to us and that's the most important for our own self-image. By doing this, we can only do better, whereas comparing with others on social medias can only bring us negativity because we're different people so we'll never look like them.
Everyone's timing is different. Indeed, if your bestfriend is in a relationship and you're not, that doesn't mean that you "suck" or that you're not beautiful or funny or anything enough to be in a relationship too. It just means that it's not the right time for you. We shouldn't pressure ourselves to be where other people are now in their lives because we do not have the same timing, and something that is good for someone now is maybe not good for you at the same time. Also, everything happens for a reason so we should just relax and appreciate life as it comes and not worry too much about the things we can't control.
Remember that perfection doesn't exist. 
Lastly, we should remember that perfection doesn't exist because we can't always be in a good mood, or being well dressed all the time because life comes in waves : one day you're fine, the next day something is bothering you and it goes on and on like this. So we have to remember that it happens also to the perfect girl you see on Instagram, it's just that she chooses to not show it to the world. Also, perfection is subjective : your definition of perfection is maybe not the same as the person sitting next to you, so you can't be perfect for everyone. You should only try to be perfect for yourself and that's enough.
Bibliography :