Paula Krumme, Germany
I live in a little city in West Germany. The name of the city is Stadtlohn, not far away from the Netherlands. My city has only 20,000 inhabitants, so Santa Barbara is much bigger because Santa Barbara has around 92,000 inhabitants. I will have only been here for 6 weeks in SB, nevertheless, it is a big change for me. Not only the number of people who live there is a big difference, but also the style of the houses. The houses of Santa Barbara have a very special style. They have white walls and red tiled roofs. The houses in my hometown are all different. I cannot say how a typical house in Germany looks, but what I can say is that the houses are often much bigger than in Santa Barbara.
Stadtlohn :
Santa Barbara :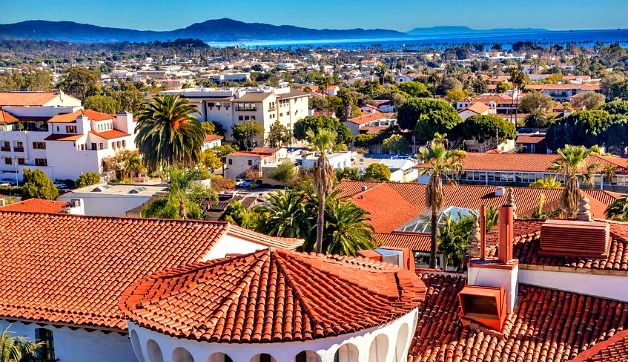 Added to that to go shopping is a very different thing, too. When I want to go shopping for some clothes in Santa Barbara, I only ride with my bike to State Street and there are a lot of different clothing stores. When I want to go shopping in my hometown, I have to drive around one hour with the car because in Stadtlohn there is only one great clothing store.
Moreover, in Santa Barbara there is literally always something happening in the city. It does not matter what time is it. There are always many people walking around. Also you can do many different activities. For example you can go to the beach, surfing, stand-up paddeling, hiking, bowling or you can go to a disco in the evening. In my hometown, there is never really much going on, because we do not have many activities we can do. The sea is really far away (around 2 hours by car) and, in addition, we haven't got a lake to swim in. So when it is really hot we must drive to another city or we must go to the public outdoor pool, but this is not very much fun. In addition, we do not have a disco, a cinema or something like this. For activities like these we have to drive to the next city.
But a big advantage of my little city is that everything is reachable by bike. All my friends live only a maximum of 15 minutes away from me. So it is really easy to meet them and I am independent because my parents do not have to drive me and I do not have to wait for a bus. Also I do not have to pay for something. Compared to Santa Barbara, this is a big difference. For most students who live in a hostfamily must ride the bus every morning and sometimes the way is longer than 1 hour. I had a lot of luck in that I have the possibility to ride a bike to school every day here in Santa Barbara. Also my way is not too long. I only need around 15 minutes. But on the first days it was really stressful and complicated to ride the bike because the driving rules are really different to the driving rules in Germany, too. Here in Santa Barbara there are many streets, where all cars drive in the same direction. So you don't have oncoming traffic. Every second street goes to the left and the other streets go to the right. This is possible because all the streets are parallel. In Germany you always have two-way traffic. So you can drive on every street in every direction, also with the bike.
The last difference i want to talk about is that in Stadtlohn everybody knows each other. In Santa Barbara you are one in a thousand. On the one hand, in Stadtlohn, there is a strong family environment and it is fun when you go in the city and you can be sure you will see people you know, but on the other hand, they also talk about everybody. So when there is new gossip, everybody knows it directly, for example when somebody posts an ugly picture on Instagram. Compared to Santa Barbara, there are so many different kinds of people and it doesn't matter what you say, do or wear.
In conclusion, I can say that Santa Barbara and Stadtlohn are completely different. In my point of view Santa Barbara is in every case the better city for a vacation because of all the activities you can do and the good weather, but for living, I prefer Stadtlohn because in Stadtlohn the living standards are higher. When you want a big house in Santa Barbara you need a lot of money. Also you need a lot of money in Stadtlohn, but most of the people can afford this. I think the reason for that is that in Stadtlohn you have better chances to get good jobs.